What we love about Christmas in Dear Old Blighty
http://boutik-research.com/wp-content/uploads/2017/12/IMG_4774-1-1024x768.jpg
1024
768
Kasia
Kasia
http://0.gravatar.com/avatar/cc1202deee0af50573baa220c71a897e?s=96&d=mm&r=g
As another gloomy year draws to its end in Brexit Britain, we are still here and have no intention to pack our bags, spouses, kids and, last but not least, our beloved boutiK, to ship them off to other shores. In fact, what better time than Christmas to remind ourselves of just some of the things we love about this island.
The Brits love their traditions and customs, and so do we. To non-natives, the array and nature of customs can be truly mind-boggling and why certain things must be done in a certain way, again and again, and why that even matters, does not make much sense at first sight (nor at second or third!).
Christmas time is ripe with traditions everywhere, but here are our top 3 British ones that we have, in vain, tried to explain to our family and friends on the continent who continue to look on in amazement.
On third place, the CHRISTMAS CRACKER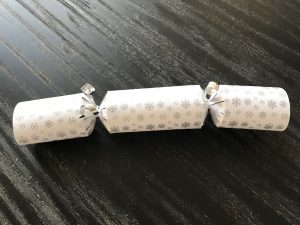 Dating back to the Victorian age, the Christmas Cracker is a must for every Christmas dinner. Looking like a giant sweet in a Christmas wrapper, each dinner guest invites the person next to him or her to pull on the other side of the contraption which then explodes with a surprise bang and reveals a coloured paper crown (to be worn, without fail, by each dinner guest), a toy (mostly of the cheap, plasticky kind) and a joke which is shared with the rest of the table. Christmas cracker jokes are usually not funny. In fact, they must contain a question and play on words which is, ideally, cringe-worthy. To give you a taster, one of most popular 2016 cracker jokes went like this: Q: What's David Cameron's favourite Christmas song? A: All I Want For Christmas is EU.
No more said.
On second place, the CHRISTMAS PANTO.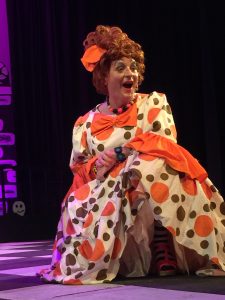 The Christmas pantomime (short "panto") is a Christmas theatre play for the whole family. The plot is usually based on a children's story (such as Cinderella or Sleeping Beauty) and has no relation to Christmas at all. It has also no relation to pantomime, to make things even more confusing. Whatever the story, there must be "the goodies" (e.g. the handsome prince and princess), the "baddie", some talking animal (like two people dressed up as a cow) and, crucially, the "dame" played by a man dressed up as a woman. The big pantos often include a celebrity, preferably one without any acting background. The audience participation is crucial, whereby the audience shout out to the actors, either reacting to cues or, more commonly, because it's always done that way, every year at every panto. For instance, if the baddie is behind the dame or the goodie, the audience will shout, "He's behind you". They will then turn around, trying to see who's there, but missing him every time, followed by the obligatory "No, he's not!" and the audience's response "Yes, he is!". There are also plenty of songs to sing along too and, of course, a lot of corny jokes.
Confused? No worries, so were we! But, we are totally converted and agree that Christmas is not complete without a good ol' panto.
And our number one, the CHRISTMAS JUMPER.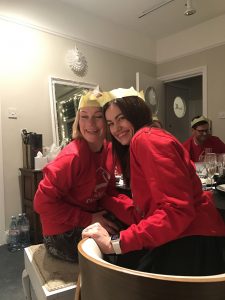 It wouldn't be real Christmas in the UK without the silly jumpers. Although the tradition of wearing wintery knits originated in Scandinavia, they quickly became very popular with Brits with their quirky and playful humour. The more naff the design, the better. It is estimated that one in five British people will don a Christmas jumper on the big day.
And so will we! Our brand new red jumpers are already waiting for the big day!
Let them keep us cosy for many more Christmas days on this island to come!
Wishing you a very merry Christmas & a very happy 2018! And if you need cheering up, click on the link below to see us singing (badly!) a Christmas carol for you. But hey, at least we look good in our silly jumpers! 😉
Lots of festive love,
K&K